Pittsburgh's bluegrass extraordinaires
picking a range of traditional tunes to ripping originals
You've landed at the home of Pittsburgh very own Shelf Life String Band. We are motley crew of pickers who love making music as much as enjoying it. While we've gone through a few changes over the years we have always strived to bring you high-energy and fresh acoustic music. If you've been to the Park House on a Wednesday night in the past 5 years you know our ever-expanding repertoire is filled with surprising covers and originals.
About the Shelf Life String Band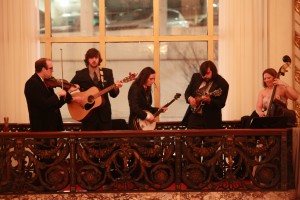 The Shelf Life String Band had a humble beginning in 2007 as a singer/songwriter guitar duo featuring Derek Dysart and Joe Dep. "The Pittsburgh music scene was lacking in local acoustic string music," remembers Joe, "and Derek and I started performing as the Shelf Life to revive string music in the city."
The duo quickly became a trio, adding mandolinist Andy Boehm, and the project evolved to incorporate more of a bluegrass flavor. To accomplish this change, Joe modified his playing, making the switch from six-stringer to the five-string banjo. The trio worked for several years to refine a heady blend of original and traditional material, watching a handful of other musicians join and divorce the project. Unfazed as these musicians came and went, the core Shelf Life continued to pursue gigs at festivals, open mics and parties to get their music out to the masses. It was a successful endeavor.
By 2011 the core Shelf Life had landed themselves a weekly gig at The Park House, a bar/restaurant in Pittsburgh's Deutschtown neighborhood. Now, in addition to one-off gigs, they had a consistent opportunity to fuel the initial conquest… Bringing more attention to string music in Pittsburgh. To keep the crowd interested, they began to incorporate covers of artists one would never hear in the bluegrass style – The Coasters, Pink Floyd, The Meters, Ben E. King, and more.
The Shelf Life had another success on their hands. Bluegrass Night was packed on a weekly basis, and the core strove to build on their successes by moving the trio to a permanent full five-piece ensemble. In 2012, the trio joined forces with violinist Rocky Youhon and bassist Trish Imbrogno, completing the bluegrass outfit now known as the Shelf Life String Band.
"Joe had approached me a few times at shows where we were patrons about coming to play with the Shelf Life at The Park House. But, I hadn't been to the North Side in years and was a little uneasy to go it alone as a chick with a bass," says Imbrogno. "When I finally got someone to accompany me one Wednesday, I was hooked. The guys were great players, the songs were challenging, the crowd was awesome, and the bar was a hidden gem in the North Side. I still can't believe I waited so long! Every week since has been equally as great, and I look forward to the next when the night ends."
The newly formed five-piece Shelf Life String band immediately began developing their sound, taking on every show possible. Weekly rehearsals lead to additionally weekly engagements and opened the doors to a myriad of high-profile performances. They have shared the stage with Greensky Bluegrass, Cornmeal, Pokey LaFarge, Mac Martin, Gangstagrass and more. The quintet also had the honor of performing for Pittsburgh Mayor Bill Peduto's campaign at events throughout his election run and was featured during his inauguration party at the Senator John Heinz History Center.
The Shelf Life String Band recently recorded their long-awaited debut LP, "Another Evening and Other Tales," which will release on March 20, 2014, at Howler's Coyote Café in Bloomfield. Releasing in tandem with the album will be a new beer brewed by Rock Bottom Brewery and head brewer Brandon McCarthy called "Shelf Life India Pale Lager."
The Shelf Life String Band is:
Derek Dysart, guitar/vocals;
Joe Dep, banjo/vocals;
Andy Boehm, mandolin/vocals;
Rocky Youhon, fiddle/vocals;
Greg Thurman, double bass;
# # #
Photos available upon request. | email: shelflifestringband@gmail.com
Pittsburgh Penguins' Theme – Boys of Winter

Our take on the Pittsburgh Penguins' Theme song, Boys of Winter

preview

The Intro: ShelfLife StringBand - Pittsburgh, PA

preview

Snake Charmers Lamment

Moonshadow Cafe Accident Maryland

preview

Surrender – Live at J Bird Studios

Thanks J Bird studios for inviting us to make this video 

preview

Single Barrel > Black Berry Blossom > Single Barrel

Live at the Park House -

preview

Work is for the Bees

At the Pittsburgh Three Rivers Arts Fest

preview

Rachel Carson Bridge

View

Heinz Hall

Here we are all dressed up in Heinz Hall.  We we're lucky enough to play on the balcony prior to the Trey Anasstasio and Pittsburgh Symphony show.

View

SLSB Halloween 2012

October 31st, 2012 @ The Park House

View Gallery
Oops! We could not locate your form.
Every Wednesday – 9-12pm